Our yearly South Africa trip has become some what of a tradition for the Free Flight Academy team and this year we celebrated the tenth anniversary of running trips there. With an amazing two weeks of flying the trip statistics were great, so before I continue let's take a look at the nitty gritty of what was achieved.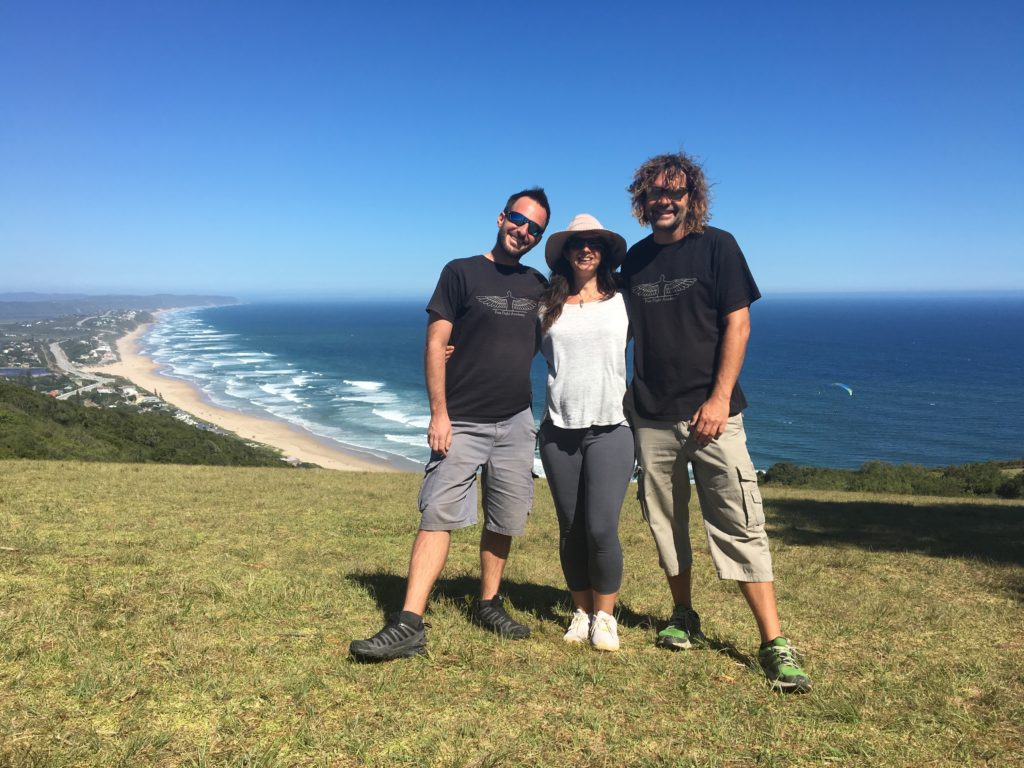 We flew everyday but one which sadly was our last day in Porterville meaning we couldn't quite complete the 100% record..but it was close! We had great conditions in Wilderness, which allowed some of our pilots to notch up just over twelve hours of airtime during our first week at a range of sites including the stunning and aptly named Paradise ridge. On our second week in Porterville we had some interesting conditions to deal with but that didn't stop a number of our group beating their personal bests with some impressive flying racking up a few 50K and 40k + flights. On the first day nearly half the group made it back to the flyers lodge which was our base for that week earning the prize of a free cold beer.
So now with the trip statistics summary out of the way, hee is a more in depth write up on our two weeks. It all started at Cape Town airport where we teamed up with the group and headed for our over night stop in Hermanus. After an eleven hour flight from Europe the four and a half hour drive to Wilderness would be to much, so we relaxed in our four star hotel on the water front and enjoyed the wine and juice reception. There was then time to have a shower and recover from the travel before we headed to the beach front for our first taste of the amazing South African cuisine and a chance for the group to get to know each other.
After a good nights sleep it was an early start to Wilderness where the forecast looked very promising for an afternoons warm up flight at the Map of Africa. We rounded the corner of the coastal highway leading into Wilderness and sure nough there were a few paragliders soaring the road which created a lot of excitement in the vans. After a site briefing on the beach landing we headed up and got the party started. We were blessed with some of the best conditions I have had at the map in a few years and some of the pilots were up for three hours soaring the coastal road we had arrived on. It was a great way to warm up and dust off the winter cobwebs that gather due to the UK weather at this time of year.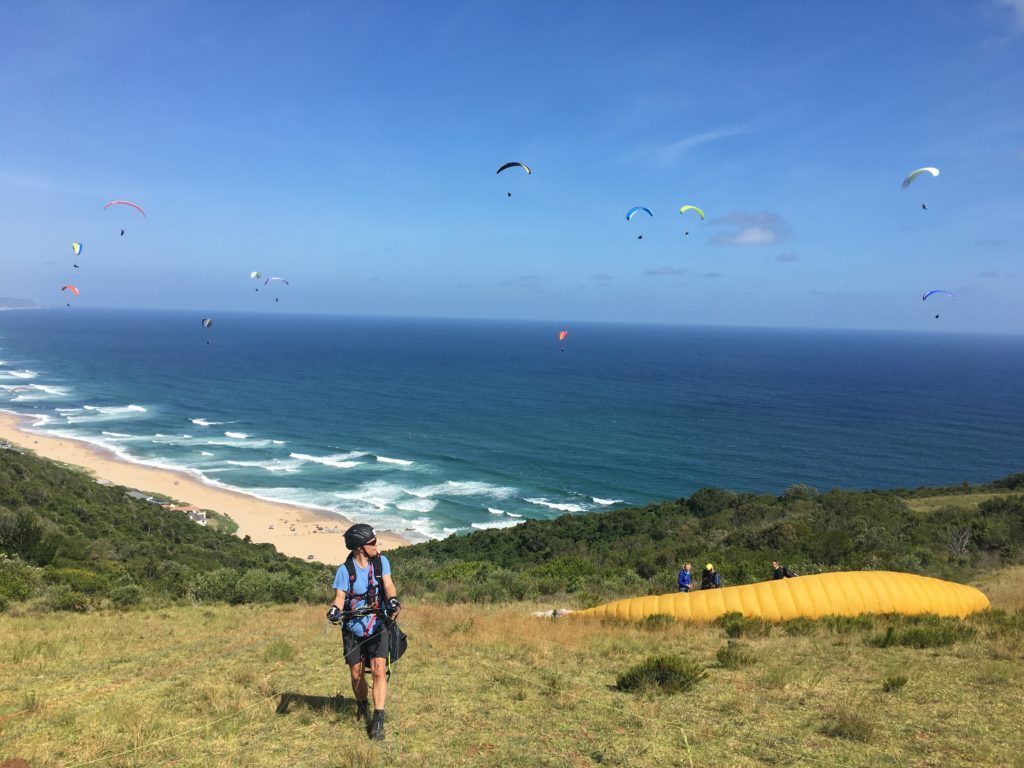 As always we were staying at the Wilderness Beach hotel, which boasts amazing sea views and a launch directly outside our ground floor bedrooms. We exploited the luxury of a five second walk from bedroom to takeoff and had some great soaring and top landing practice, which is a particularly important skill to practice for UK pilots.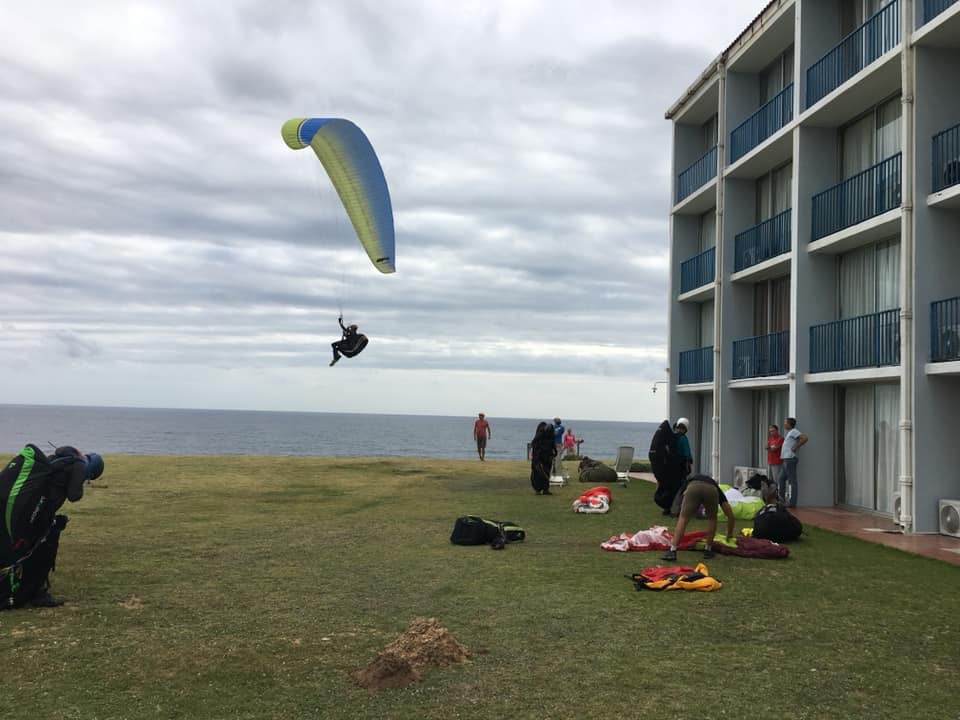 We aim our week in Wilderness to not only be a holiday in a stunning and easy to fly location, but also a chance to practice important skills such as top landing and different types of launch methods. The smooth laminar air coming from the coast really does make it an ideal practise and warm up location. We also had a chance to get stuck into some thermalling at Sedgefield, which is a lovely flying site just inland enough to benefit from the land heating and allowing mild thermals to develop. This gave us the chance to get our climbing down in preparation for Porterville, our second destination on the Garden Route tour.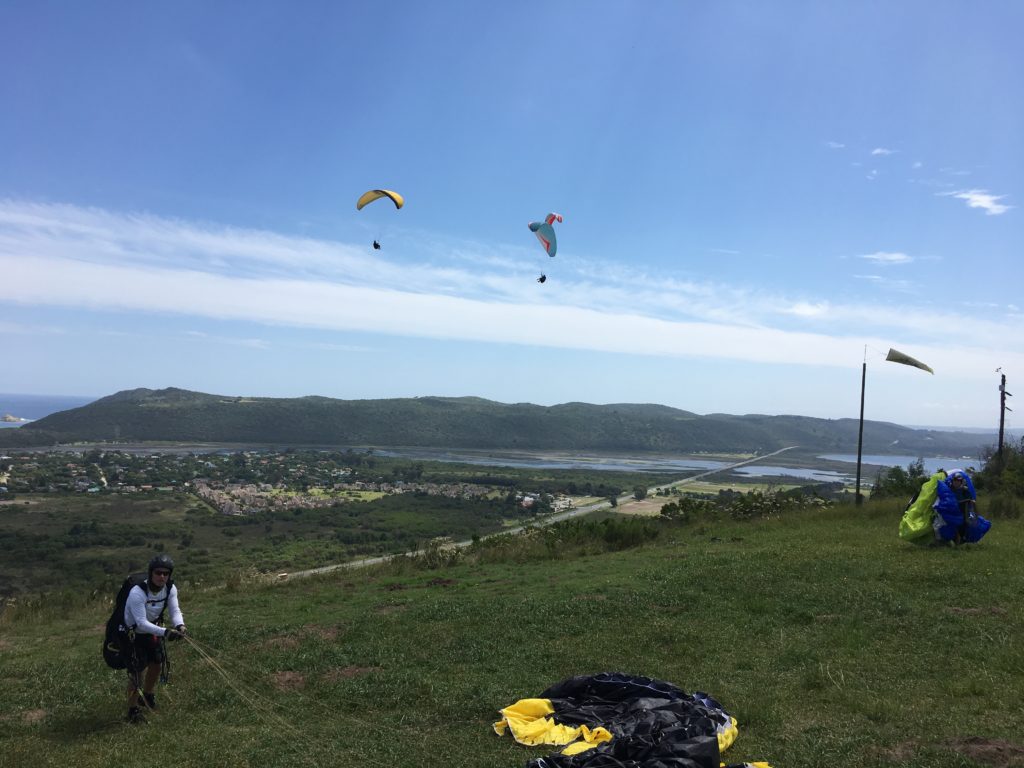 The transfer time to Porterville is five hours from Wilderness, taking us through some of the Western Capes most picturesque mountain scenery followed by endless vineyards of the Capes famous wine region. The pilots were glad of the rest day and having arrived and settled in at the Flyer Lodge we made it up to launch for the sunset briefing before the next days flying adventures begin.
Our first day was something of a magical day as were treated to some very rare cumulous cloud which does not always happen at the often stable and inverted Porterville. Although the wind was a little more crossed on the ridge than we like, making climbing a little more difficult at times due to the head wind, we set an easy warm up task back to the lodge as this was down wind. We were thrilled to see nearly half the group making it to goal and a free beer, which for some was their new distance PB to boot.
After a few days the group started to get to know the site (and for some of our pilots this was their second or third visit with us) the distance started to come. With Akis and Mark clocking up the first 50k of the week, the Biltong Cup was open for anyone to claim. The Biltong cup is our fun little comp, to see who clocks up the most distance during the week and it is always hotly contested. The week saw myself on my new Gin Bonanza 2 enjoy a lovely flight whilst guiding half of the group to another PB smashing flight. In perfect Porterville conditions the flight cumulated in Mark once again hitting the 50k point with me, before we decided to call it a good day a land for some shade and cold beer.
Mark is an ex EP – CP student of mine and it was very special all these years later to see how well he has developed and to watch him thermal with me and make an XC together.h the title going to Inja, a female pilot from Croatia. Inja was on her first trip with Free Flight Academy and although she has only been flying for three years her skill level, control and passion for flying during the whole two weeks saw her pip them to the post.
Outside of the flying, Terina's amazing BBQ skills kept us well fed and watered during the evenings and the pool helped to cool us all after a hot days flying and retrieving. South Africa is one of our favourite trips and we will be going back next year again with out doubt! If you want to join us in dodging the UK winter and sample what this amazing destination has to offer check out our trips page and secure your place.