The Free Flight team has just returned from their second long haul trip of the season to Colombia and as I write this blog it's hard to put down in words quite what an amazing place it is. Before we get started lets go through the trip statistics. We flew twelve out of thirteen days and clocked up 25 hours of airtime. Some of the pilots collected over 150k of distance spread over the two weeks flying; including some declared triangle tasks of up to 75k. A few personal bests were also beaten, so a big congratulations to those pilots.
After reading this you might think what a lucky and exceptional trip we had, but the truth about Colombia is this is an average trip at this time of year and can be expected.
It is hard to find the right word to describe how good the conditions are most days but after a bit of thought I'll go for perfect. Our initial impressions weren't so glowing, as within half an hour of leaving the airport it started to poor down. In the UK this type of rain would have been set in for the day but in Colombia its just a freshen up before the sky returns to puffy little Cumulus. Its amazing how quickly it can go from looking washed out to flyable in Colombia and on our first full day we benefited from this with two nice easy warm up flights in our first location of Pie de Chinche. Pie de Chinche is a great site to warm up, especially for those UK pilots who have not done much in the way of flying over the long winter. It has a very big grassy take off and is flyable all day in the right conditions, which gives plenty of opportunity for practicing thermalling. We set a couple of easy little out and returns but the main focus here was just to get back into the swing of flying and climbing again.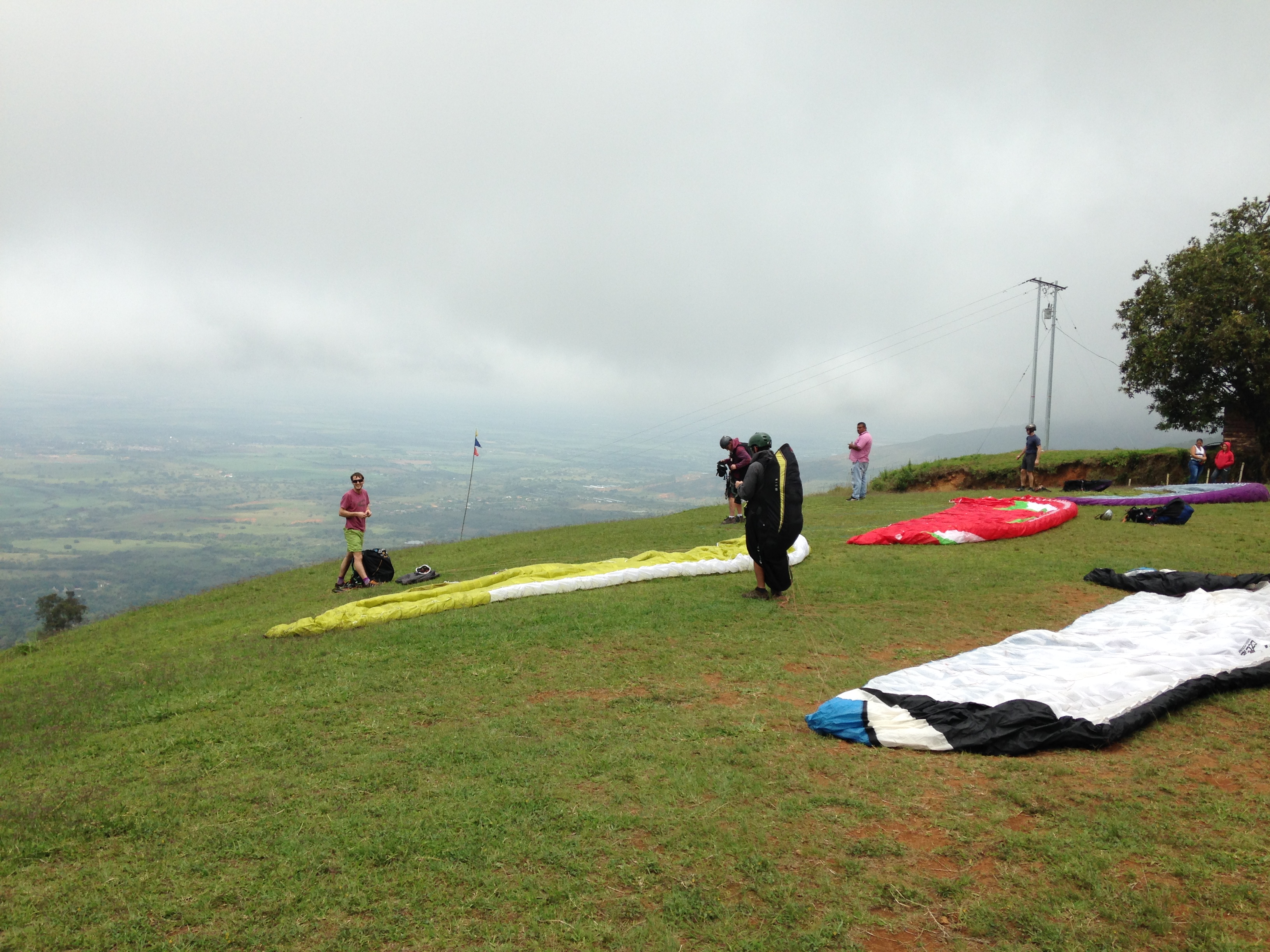 After three great warm up days in Pie de Chinche it was time to take it to Roldanillo, arguably one of the best XC flying sites in the world. Over the next seven days we had superb flying in Roldanillo with conditions allowing us to make some open distance attempts both to the South and North. Open distance is always good fun but being blown 50K down wind is not much of a challenge so we set some trianglish tasks of between 40k – 75k. These tasks are always more interesting as they require cross wind and even upwind legs, which tests pilots decision making and ability to find lift. Over our seven days in Roldanillo we flew everyday, with only one day proving difficult with strong winds and broken thermals putting us on the deck within an hour.
Obviously after extensive flying during the day its important to relax and chill in preparation for the following days flying and with a plentiful supply of hammocks, swimming pools and the odd beer or two that wasn't too difficult.
Apia was our last location of the tour and this is where our local knowledge of Colombia came into play. Apia is a stunning site 80K North of Roldanillo in the Coffee growing triangular belt and is not so well known about by visiting pilots.
It's a site a lot of local Colombian pilots go to for XC flying, as the launch and sky's are never crowded and with the house thermal next to launch it is an easy site to get up and away from. On our first few mornings we had to wait for the cloud base to rise, which meant we were losing a bit of time to make long distance XC's, but despite this the guys climbed up fast and most times we were able to leave as a gaggle and get on our way. Goal was Roldanillo and of by now the familiar sight of Sky God Akis up front marking the next thermal was proving very  useful and we all made some good little forages up to 50K from Apia. On some days this was made harder due to the fact that the wind was unusually against us for at least some parts of the flight. However all the flying here was again easy and there were plenty of landing options available at any stage during the flight which gives you so much more confidence for pushing on and trying to find lift in new places.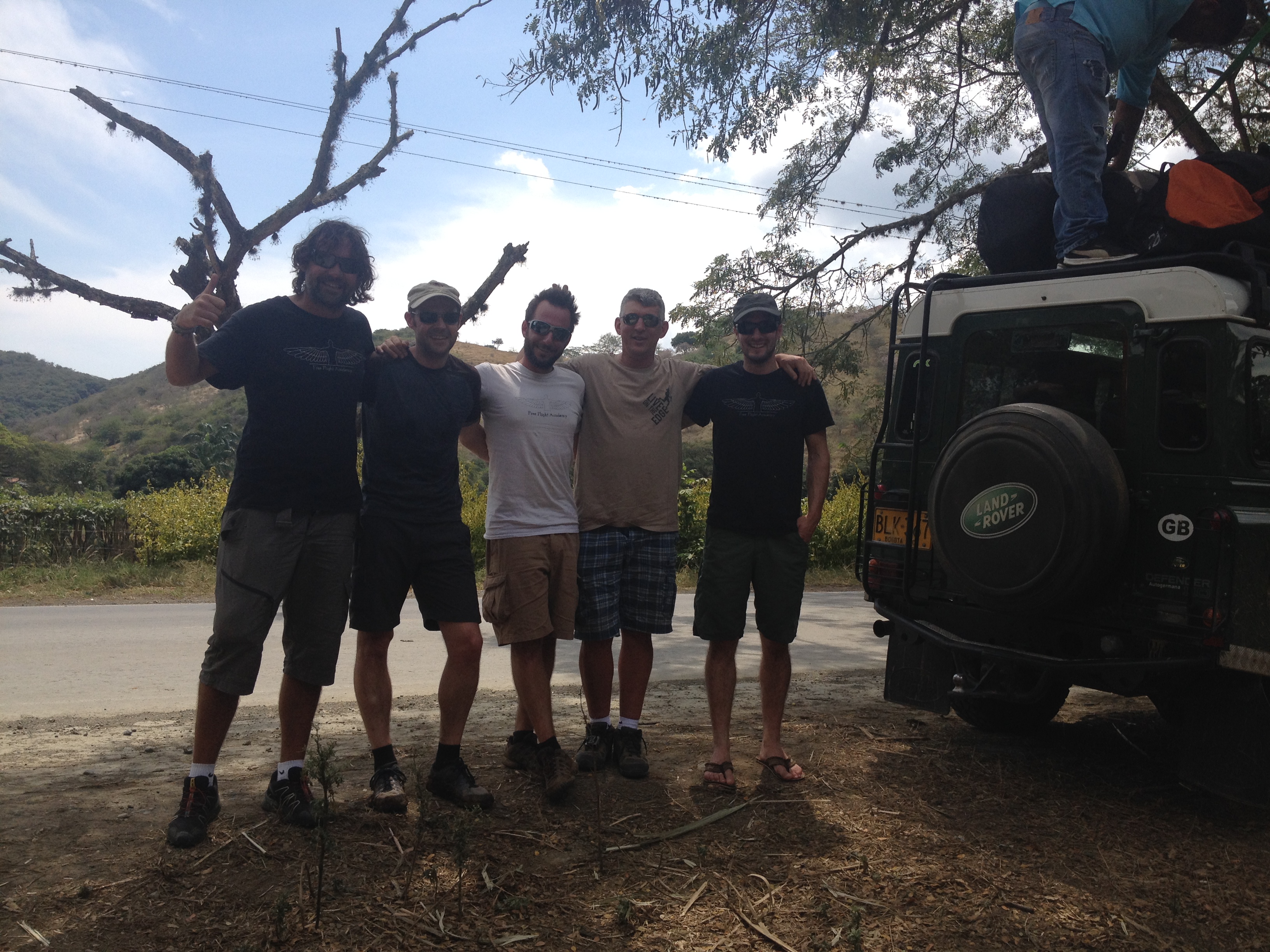 At the end of each flight no matter how far we had gone we were picked up by Carlos our retrieve driver and it was off to find a Colombian lunch and a few beers to recount the stories of another days flying. By the end of Apia and trip as a whole it was amazing to see the progression every member of the group had made in their personal flying. It was such a shame that as we drove to launch on our final flying day in Colombia the heavens opened and the cloud base dropped on to launch and we were denied our 13 out of 13 days but that's paragliding and if we were honest we were all quite glad of the rest. The day was not wasted and we returned to town for a look around a coffee producers warehouse and sampled some of the local produce before sinking some more Colombian rum and packing our bags to end what was an outstanding trip, with a wonderful small group of pilots.
We are already really excited about returning to Colombia next Feb 2016 and after this years experience we are aiming to be there for the entire month, running the same program twice. I believe if its not broken don't fix it, so for your chance to share in this paragliding adventure to one of the worlds finest flying destinations check out our trips page for all the info and to watch our video.